A town with 4,100 inhabitants 17 km from Pécs on the road No. 6. lying at the edge of the East-Mecsek Nature Conservation Area. The place acquired an all-Hungarian significance in the organization of state and church affairs through the Benedictine monastery founded by Saint István in 1000.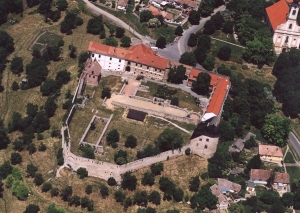 The castle and the Benedictine monastery, the church of which was consecrated in 1015, are prominent in an environment with Zengő Hill in the background. Fragments of comtemporary frescoes can be seen in the 9th century chapel of the castle. Valuable historic buildings of the town include the Our Lady church (1767) with rococo altars and pulpit, the cemetary chapel and the Calvinist church (1785).
The Town Hall was built by Ágoston Gianone, an architect of Italian origin in neo-Gothic style. In front of it there is a multi-figured statue of the Holy Trinity from 1816. The natural beauties and the historic remains of the town and its environment offer a rich program for tourists. Lake Dombay, lying 2 km from the town, has become a popular holiday resort. Every April the Saint George's Day Festival is held in Pécsvárad, the Summer Theatre is open 10-20 August, the vintage procession with a folk art fair is organized in October and on the Saturday and Sunday around 18th October a 'Girls' fair' is held.