Town with 12,157 inhabitants at the Austrian border (national highway No. 8). It was first mentioned in documents in 1238 by the name of Villa Curmend terra regis as a royal estate.
The Saint Márton church was built by the original inhabitants while the Saint Elizabeth church was on the area of the German settlers. There was a parochial school in the village in the Middle Ages.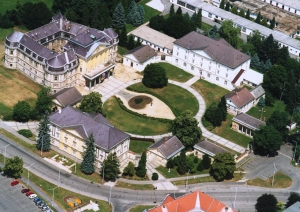 The former Batthyány-Strattmann mansion was built in the 18th century on the foundations of a medieval fortress and was several times rebuilt since then. It houses the collection of local history of the Rába region. Besides the permanent exhibition - in honour of the 750th anniversary of the foundation of the town entitled 'The Heritage of Generations' -, the archeological, local history and craft exhibitions the museum also presents the natural values of the surroundings. The only Hungarian collection of the history of shoes can be found in Körmend. The primeval park around the building is a nature reserve. The originally Gothic (15th century) Roman Catholic church was reconstructed in 1731 in Baroque style.There are several statues in the village: the 18th century Baroque statue of Saint John of Nepomuk, the Carrara marble statue of King Béla IV, the Maria Immaculate statue on Szabadság square and opposite Lajos Kossuth's life-size statue. The bank of the Rába is a starting point of water trips. A water carnival is held in each August.